Unveiling the New AI-based Elite Series in India
1970-01-01 08:33:41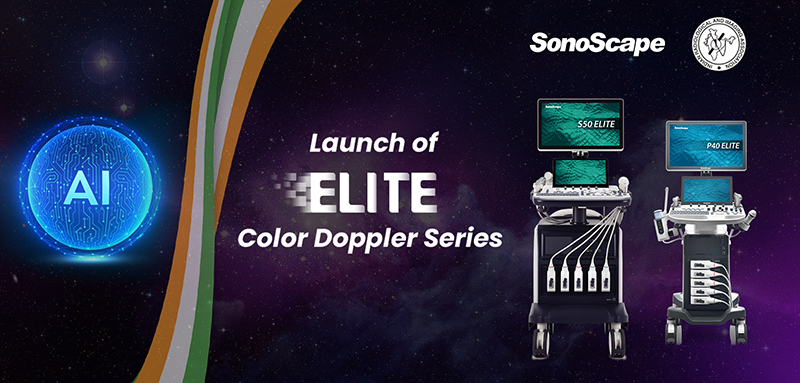 As the pandemic once again engulfed the world with unexpected variants of the virus change through mutations, the population is highly advised to stay at home and self-isolate. As a result of the Covid-19, online activities remain the top choice for a business to connect with its clients and audiences. Joining hands with Indian Radiological & Imaging Association (IRIA), SonoScape hosted an online conference, launching the upgraded AI-based Elite ultrasound series on 15
th
August 2021, the 75
th
Independence Day of India. Focusing on AI technologies in ultrasound clinical applications, two national key opinion leaders Dr. Harsh Mahajan and Dr. Ashwin Lawande brought SonoScape AI features into the limelight, creating a feast of innovation across imaging modalities.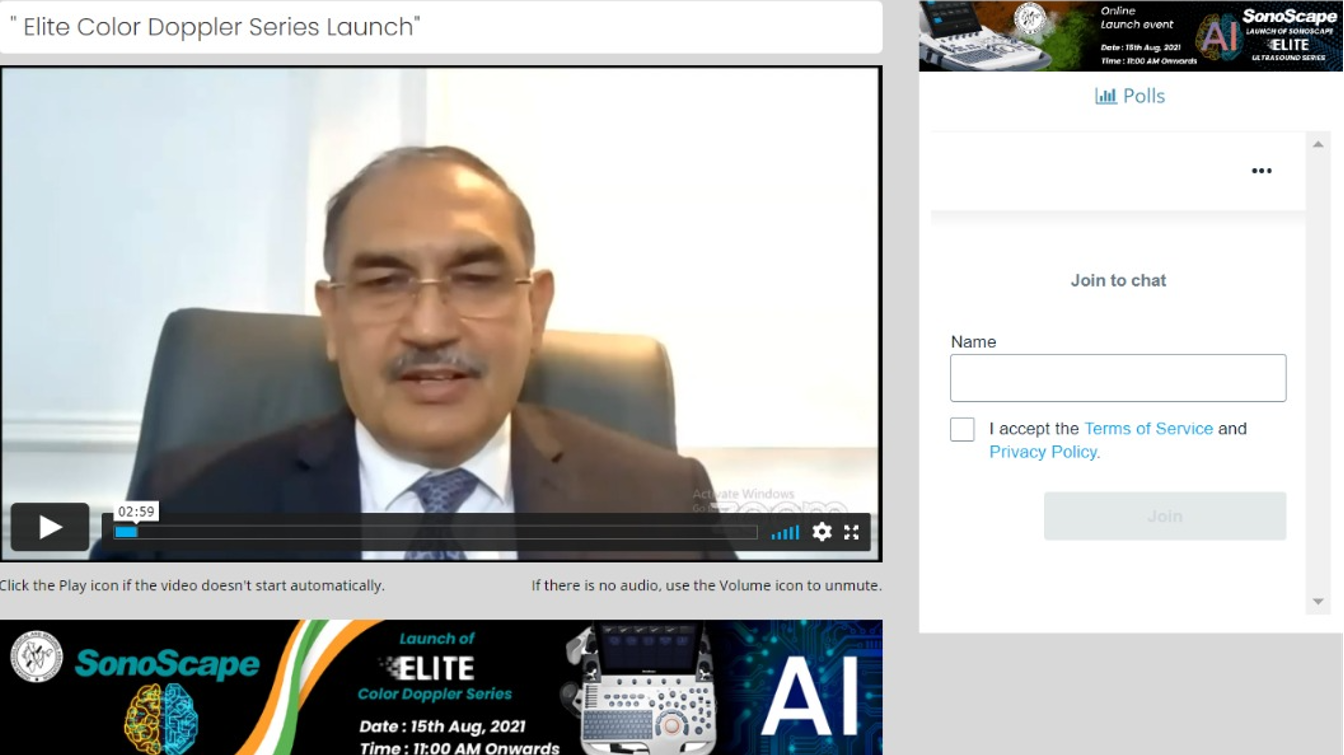 Dr. Harsh Mahajan highlighted the abilities of AI in ultrasound
As a former president of IRIA and one of the pioneers of imaging technology in India, Dr. Harsh Mahajan highlights the trend and potential capabilities of AI solutions in ultrasound diagnosis. "Integrating AI solutions such as S-Thyroid, S-Follicle, S-Spine and etc. increase doctors' work efficiency as it enables a simple, fast and accurate scan to avoid lengthy exam and reading times." He pointed out the AI and deep learning capabilities impress the whole team as they "provide diagnostic confidence with the easy operation that even improve the performance of a less-experienced radiologist."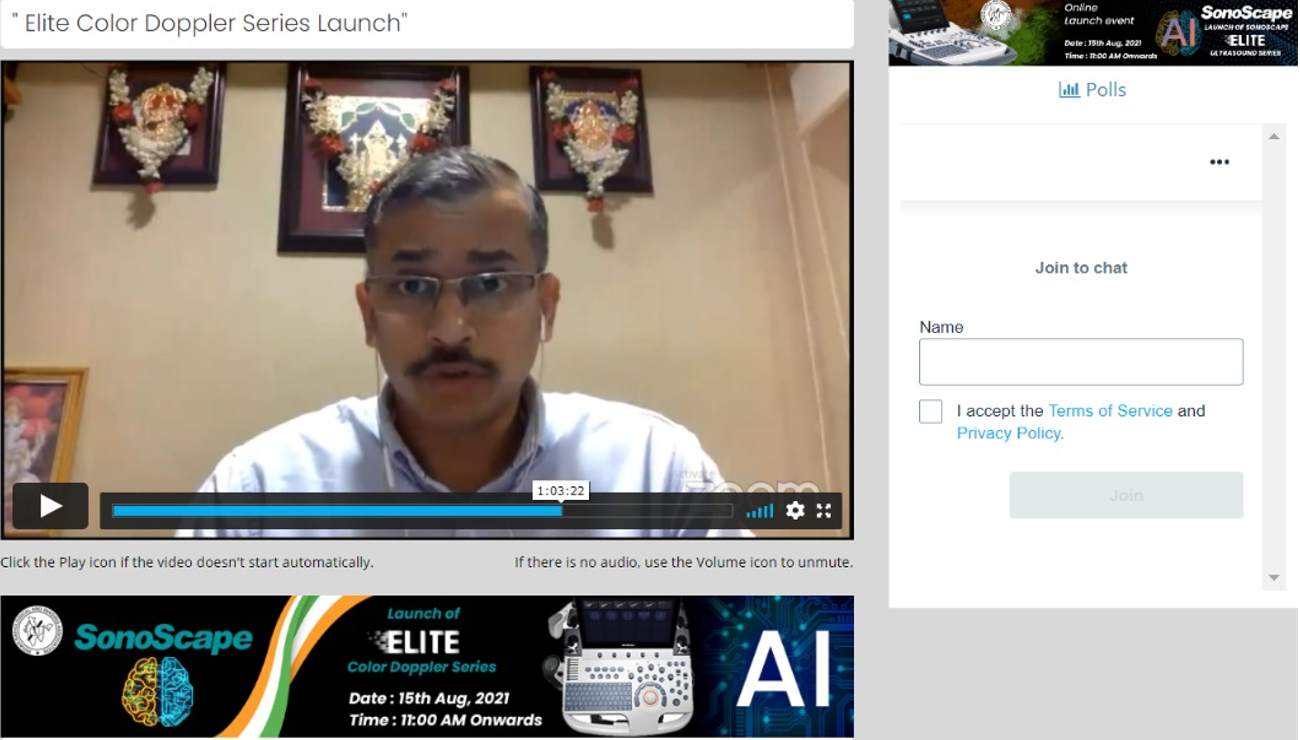 Dr. Ashwin Lawande explained how AI can help in MSK & Thyroid for day to day scans
Sharing a profound insight on the "
Role of AI in MSK & Small Parts"
, Dr. Ashwin Lawande presented his MSK case studies, elaborating that the development of AI increases the value, which the "MSK imagers provide to refer clinicians with ensured image quality, patient centricity, decreased turnaround times, enhanced image processing and quantitative analysis."

Mr.Mahendra Mehra and Mr. Gaurav Mangol gave a warm appreciation to IRIA members
Allying with IRIA, SonoScape expands its resources to track the demands of doctors and provide them tailored solutions with a seamless experience."The growth of the India market was inseparable from strong supports from local medical practitioners and our innovation would be the best return for helping them increase productivity", said Mr.Mahendra Mehra, Managing Director of SonoScape India. Enjoying to partner with SonoScape, Dr. C Amaranth, IRIA President, expressed that the development of the new AI-based platform representing the "futuristic level of AI technology in the ultrasound field." "Automated tools are easy to use and reliable to offer a trustworthy diagnosis", commented by a premier member of IRIA, Dr. Pankaj, Treasurer.

IRIA president and member: Dr. C Amaranth and Dr. Pankaj , Hon.Treasurer
Artificial intelligence promises wide-reaching impacts on the field of ultrasound by increasing the ability of image interpretation. Rather than an online new tech launch, this virtual event is adding value by gathering professionals to embrace advanced technologies that will be well suited to lead influential change in the ultrasound field in the near future.